LynyrdSkynyrdFan
3

November 23rd, 2010 + 2:11 AM
·

LynyrdSkynyrdFan
I wrote this one the beach in Daytona Beach Florida and tried to incorporate a tropical sound into a song when I got back home to Alaska. I think I captured it quite well. The only issue I have with myself, is the back ground fuzz. I dont know what it is, maybe my mic chord or mixer? Hm. Anyways, please crit
5

July 28th, 2010 + 3:07 AM
·

LynyrdSkynyrdFan
This song is kind of about how I've been feeling lately, cuz I broke up with my girlfriend of a little more than a year recently and alot of people around have been creating stupid drama and I just feel like I wanna go away. Anyways tell me what you think, I played all the instruments and the vocals. Also, I want to know how strong my lyrics are so if you'd comment them, I'd appreciate it. Thanks!

-Daniel

LYRICS:
Sometimes I feel I'm screaming
And I don't need no one, no one
Sometimes it seems I'm dreaming
Cause life ain't no fun, no fun

I'm sorry, everybody, but
I've got to go
Your pathetic drama
Chills me to the bone

Chorus:
Wish it didn't end like this
Coulda gave you one last kiss goodnight
Now I'm standin' in my bedroom
Like a, Like a Deer In The Headlights

Like a deer in the headlights, yeah

I'm drivin' down this road, I'm
Swervin' from side to side
Carryin' this heavy load, I'm
Tryin' my best to hide

Repeat Chorus
2

May 29th, 2010 + 4:05 AM
·

LynyrdSkynyrdFan
K I made this with fruity loops, Its my first beat and I'm hoping to get some feed back on how to make it better so I can maybe get someone to rap over it a turn it into a real song. Thanks
Daniel
5

November 25th, 2009 + 8:11 PM
·

LynyrdSkynyrdFan
I wrote this for my girlfriend Beki. Used a drum machine for the drums but the rest is played by me. I know the vocals are horrible but whatever lol its all good.
5

July 21st, 2009 + 11:07 PM
·

LynyrdSkynyrdFan
This is a song me and my band Rawk Kard wrote. Tell me what you think of it and what could be better! Thanks.
Alias:
LynyrdSkynyrdFan
Status: Offline
Threads:
35
Posts:
107
Songs:
26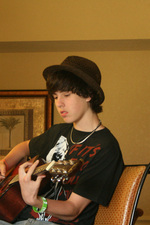 Joined: October 28th, 2005
Last login: February 04th, 2011
My Messengers
| | |
| --- | --- |
| AIM: | n/a |
| ICQ: | n/a |
| Skype: | n/a |